Join us for the 47th Annual #A2HungerWalk! Every fall since 1975, Washtenaw/Ann Arbor congregations and organizations have walked together with a common mission: to help the hungry and impoverished here and throughout the world.

The 2020 Virtual Walk raised a total of $33,407.98, well above our goal of $30,000 - and we want to do it again!

Sign-up online and start raising funds TODAY! Join us either in-person at Bethlehem UCC or virtually for our hybrid event send-off at 2pm!

Those joining us in-person: we will be gathering outside on Bethlehem UCC's lawn and will have the send-off there, but restrooms will be available inside the building.

IMPORTANT DATES:

VIRTUAL RECRUITER TRAINING
Wed, Aug 25 from 7-8pm
Zoom and FB Live (@annarborcrophungerwalk)

DRIVE-THRU PACKET PICK-UP
Wed, Sept 1 from 4-6pm
Bethlehem UCC
423 S 4th Ave
Ann Arbor, MI 48104

LOCAL AGENCY ROUNDTABLE
Mon, Sept 27 from 12 pm-1 pm
FB Live (@annarborcrophungerwalk)
Join us for our 2nd Annual Local Agency Roundtable! Hear updates from representatives from the local agencies supported by this fall's Ann Arbor CROP Hunger Walk (Hope Medical Clinic, Inc, Growing Hope, Packard Health, The Breakfast at St. Andrew's, Peace Neighborhood Center, Love Thy Neighbor at First United Methodist Church of Ann Arbor, and Community Action Network)! Attend during this lunch-break roundtable here on Facebook Live and ask your questions in the comments of the stream and those will be passed along to the presenters.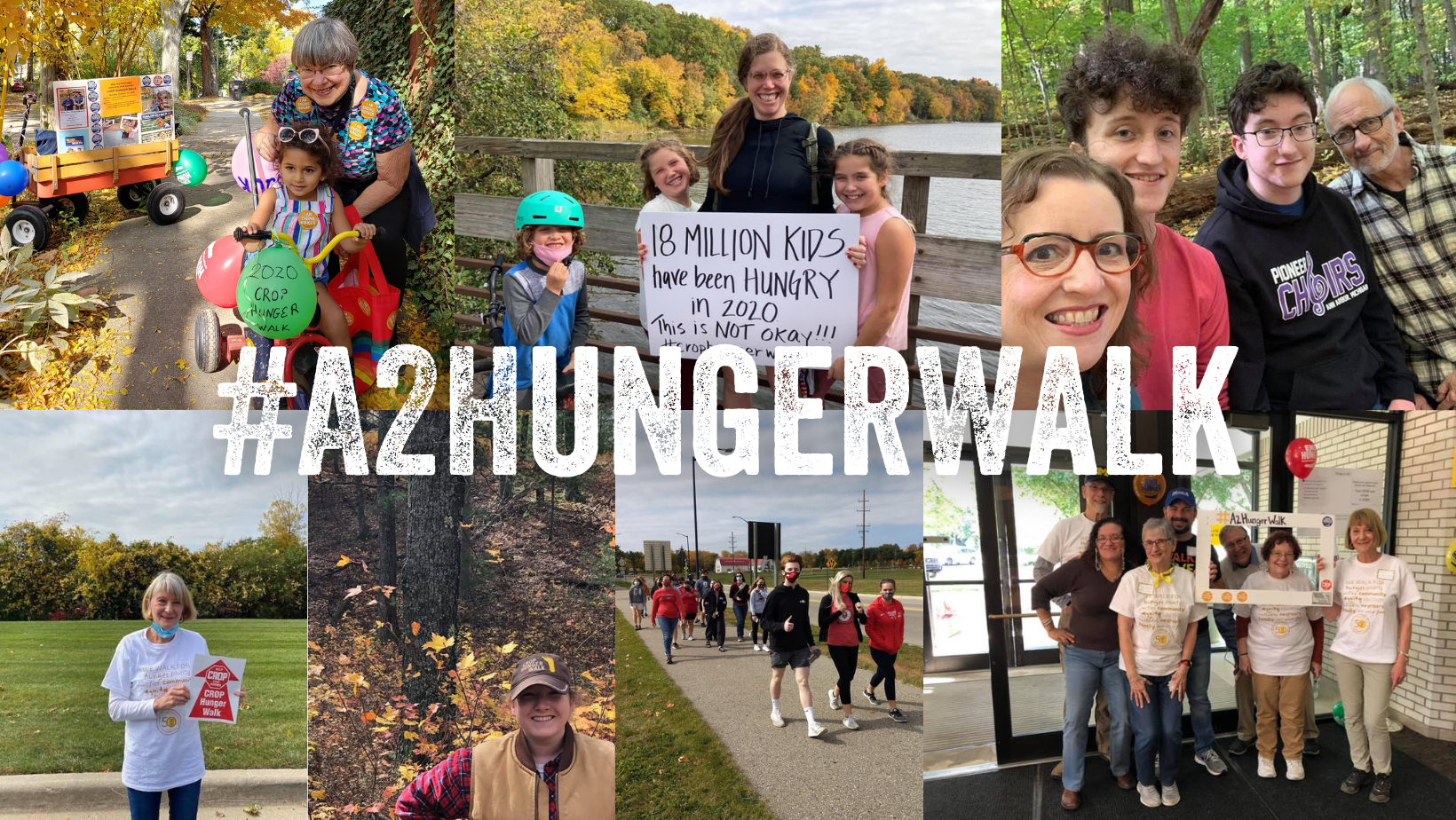 ​
{{event.offlineDonationCount !== 0 || event.donationCount !== 0 ? 'So far we have raised $' : ''}}{{event.donationCount !== 0 ? event.donationAmount : ''}}{{event.donationCount !== 0 ? ' in online donations' : ''}}{{event.offlineDonationCount !== 0 ? '' : event.donationCount !== 0 ? '!' : ''}}{{event.offlineDonationCount === 0 ? '' : event.donationCount === 0 ? '' : ' and $'}}{{event.offlineDonationCount === 0 ? '' : event.offlineDonationAmount}}{{event.offlineDonationCount === 0 ? '' : ' in Facebook donations or reported cash and checks!'}}