Join us for the 31st Annual Martha's Vineyard CROP Hunger Walk-A-Thon, October 1 – 17, 2021!

In the face of the continuing needs of hungry people around the world, in our nation, and on Martha's Vineyard, especially in a time of a still-very-real global pandemic, we remain committed to raising money in the fight against hunger through our annual hunger walks. Over the course of our first 30 years, the MV CROP Hunger Walks have raised $571,179 to benefit the poor and hungry around the world and on our own island. In 2020, we raised $37,772, our best fundraising effort ever by far.

This year, in the midst of the uncertainties of the pandemic and to keep everyone safe, we will, once again, conduct a Walk-A-Thon from October 1 – 17. On Sunday, October 17, we will come together outside St. Augustine's Church in Vineyard Haven to celebrate our walkers and our shared achievements.

FAQ's
-When do we walk?
Anytime you like, beginning October 1 through our closing celebration on October 17.

-Where, and how many miles do we walk?
Anywhere on the planet, for whatever distance works for you. On the Vineyard, we have laid out walk routes of 1 – 2 miles in each of the three Down Island towns that will provide visibility to the cause of fighting hunger as you walk – so you could choose to walk one of these. We will provide ideas for your walk and signs for you to carry to inform others about the CROP Walk.

-Who do we walk with?
On your own, with a friend, or a group or team from your faith community, civic organization, or school.

-How do we register?
We strongly encourage walkers to register online at https://events.crophungerwalk.org/2021/event/marthasvineyard , For help, contact Libby Fielder at mvcropwalk@gmail.com or 703-424-3968. If you wish to avoid computers, contact Woody Bowman at 508-958-7058.

-How do we raise money?
If you register online, you may also set up a home page through CWS CROP, and your donors can go to that page to give. A fundraising page on Facebook is an easy and effective way for donors to find you, and we'd be happy to help you set that up.

If you register offline, you may collect money directly from your donors. In either case, we will provide donor envelopes to you to collect any checks and cash that are given to you.

-How do we submit the money we have raised?
Online donors' money is automatically routed to Church World Service. Checks and/or cash can be turned in on October 17 at our Closing Celebration at St. Augustine or to your team leader.

-How is the money used?
Twenty-five percent of the funds we raise will benefit the Island Food Pantry and the Vineyard Committee on Hunger in their services to the Island. The other funds will be used by Church World Service in the U.S. and globally for emergency food supplies, agricultural training, livestock, wells and pumps, farm seeds and farm equipment.

-Tell me more about the Closing Celebration.
On October 17 at 2:30 PM, we will gather in the St. Augustine parking lot (where we have begun walks in years past) to celebrate our walkers. We will have music and information about efforts to fight hunger and increase food-equity. We will honor Hunger Fighters in our community. And we will honor our walkers and their varied achievements.

Follow us on Facebook for updates, photographs from walkers, and for general information, both about this seventeen-day Walk-A-Thon and on hunger issues generally. Together we can help end hunger in our community and around the world!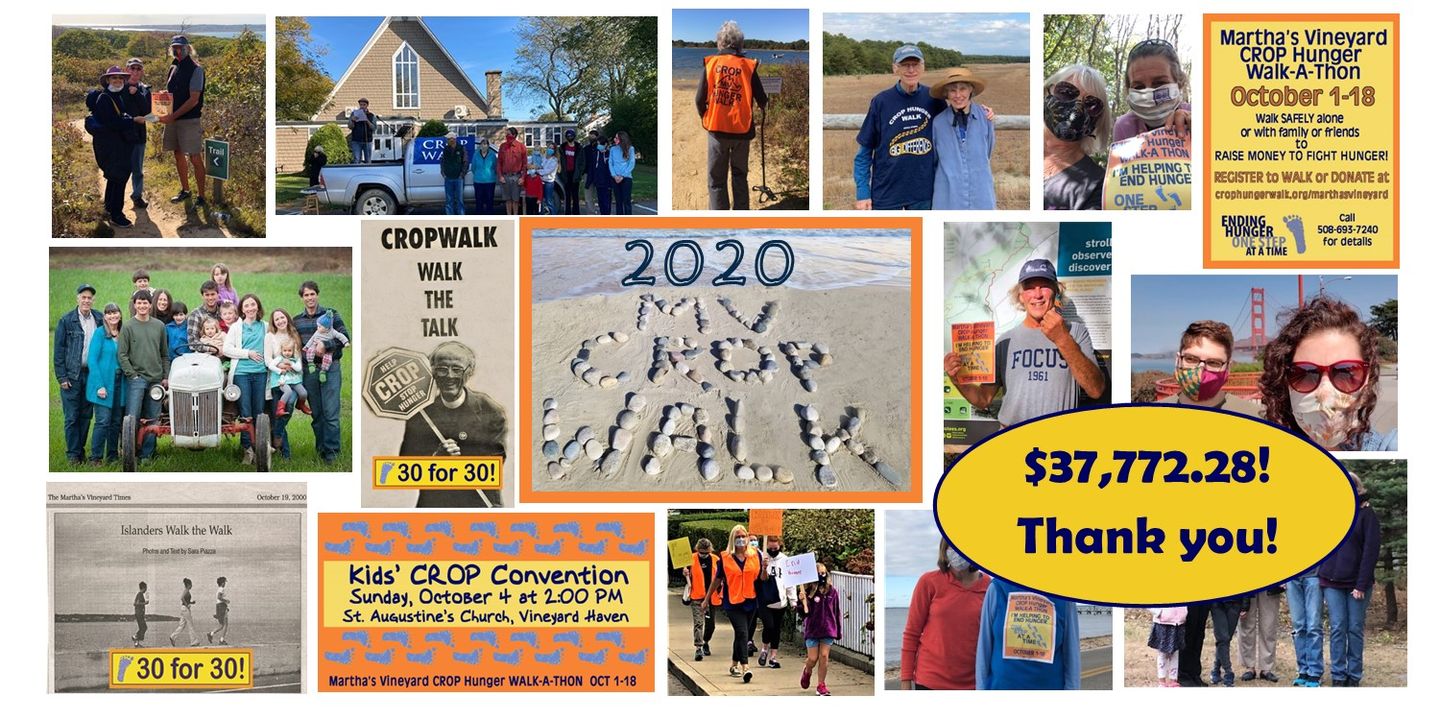 {{event.offlineDonationCount !== 0 || event.donationCount !== 0 ? 'So far we have raised $' : ''}}{{event.donationCount !== 0 ? event.donationAmount : ''}}{{event.donationCount !== 0 ? ' in online donations' : ''}}{{event.offlineDonationCount !== 0 ? '' : event.donationCount !== 0 ? '!' : ''}}{{event.offlineDonationCount === 0 ? '' : event.donationCount === 0 ? '' : ' and $'}}{{event.offlineDonationCount === 0 ? '' : event.offlineDonationAmount}}{{event.offlineDonationCount === 0 ? '' : ' in Facebook donations or reported cash and checks!'}}